Here's a cute little addition to the facilities at the Library of Birmingham – a place for a snog.
Whoops! Sorry, to have said the first thing that came into my head when I saw these cosy little red booths.  Of course, it's not a place for a snog.  (Slap hand)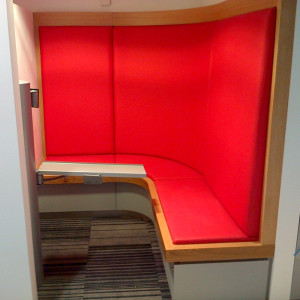 It is place where you can view the exclusive collection of film archive material of the British Film Institute.  You can find these booths on the Discovery Floor.
(And I am minded to say that anyone who is caught using these booths for anything other than their intended purpose will be politely told to move on.)
One of the striking things about the Library of Birmingham is the enormous variety of spaces that there are within the one building.  There are these snug booths, there are wide open communal areas, there are bright yellow steps from where you can listen to stories, there are meeting rooms, private study areas, round tables to talk around and gardens to dream in.
Who knows whether the balance of these different spaces is right, but there seems to be something for most moods, for many activities and every personality type.
And that point, is the most important point of all about the Library of Birmingham.
I took part in a focus workshop with other Faces of the Library where we divided into groups and talked about the library's values.
In that room of people from all ages, backgrounds and abilities the value that every single group put top of its list was that it was welcoming to ALL. I found that really moving.
And that continues to be the thing that I want more than anything else from this wonderful library of ours  – I want it to be a place where whoever you are, you are welcome.
Ultimately it is people who make others feel welcome, but the building, with its enormous variety of different places to play or read or listen or surf, is doing its best to say: "Welcome" too.