I am delighted to announce the publication of Loneliness: Accident or Injustice? 
Loneliness: Accident or Injustice was commissioned by the Diocese of Oxford (Board of Mission) and the Archway Foundation in response to research by the Church of England and Church Urban Fund which found social isolation was the most wide-spread social concern of our time.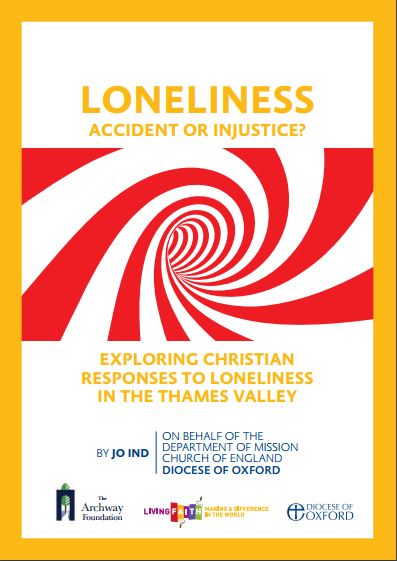 I was invited to write a publication that looked at the prevalence of loneliness, what the churches are doing to help build communities and reflect theologically on my findings.
The Church in Action report found social isolation is not restricted to parish size or social class. It's more often noted in deprived parishes (81 per cent) than affluent ones – but even amongst the well-off, 55 per cent of leaders say loneliness is a significant cause of concern.
It was an absolute delight to be using my journalism skills again as I sat and listened to people talking about their sadness.  At times I felt over-whelmed and needed to go for long walks to take care of myself.
But it was also hopeful and beautiful to see and to celebrate the small, ordinary acts of kindness being done in church halls, between neighbours, on sofas in community centres with knitting and nattering.
To read extracts from Loneliness: Accident or Injustice? click on the following links:
You can also download the whole publication: Loneliness Accident or Injustice by Jo Ind (PDF 536KB)
Loneliness: Accident or Injustice? will be launched at the Wesley Memorial Methodist Church, Oxford on Tuesday, 19 January 2016.