Chapters
THE POET, THE WARRIOR, THE PROPHET (SCM CLASSICS 2010) BY RUBEM ALVES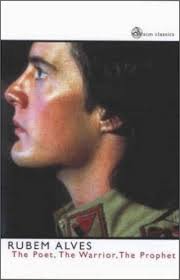 I was very honoured to be invited to write the preface to this amazing work by the Brazilian philosopher and psychoanalyst, Rubem Alves, one of the founders of liberation theology. His book is impossible to categorise as it brilliantly weaves many modes of thought.
The preface begins: "I have at my side my copy of the 1990 edition of this book.  It is a battered version. The cover is curled at the corners. There are creases along the spine which cause it to fall open on my favourite pages.  There is a coffee stain in chapter 5 and there are pencil markings around certain sections.
"This book was given to me by a friend, Helen, who inscribed the first page in green felt-tipped pen.  'I hope this book will continue to affirm and encourage you (as it has done for me) and keep that 'little girl' side of you well nurtured", it says.
"These markings are a clue as to what kind of book this is.  It is not the sort of book that you read once and never read again.  That is what you do with books you understand…"
SEXUALITY: THE INCLUSIVE CHURCH RESOURCE (DARTON, LONGMAN AND TODD 2014) BY SUSANNAH CORNWALL AND BOB CALLAGHAN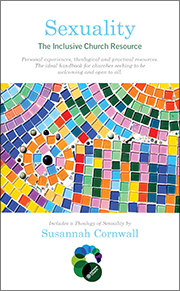 I was invited to contribute a story to this book, which combines theology by Dr Susannah Cornwall, lecturer in theology and religion at the University of Exeter with true stories edited by Bob Callaghan of Inclusive Church.  The book is a resource to enable people to have useful conversations about sexuality.
My chapter begins: "If you can excuse me for using such an unfortunate term, there's something I'd like to get straight right from the start – I'm not excluded, or at least not in the way that some people are….
"But despite the fact that I am neither socially nor institutionally excluded, I feel diminish by much of what I hear on the subject of sexuality.  The messages that we receive about sexuality from the world around – what's sexy, what isn't, who is, who isn't – leave me discomforted.
"The church doesn't help. In fact the church makes it worse. There's a dissonance between the story the church tells about sex and what my lived and breathed experience of it seems to be. And that matters because we need to know the truth of our sexualities in order to live them well."
You might also be interested in my publication: Loneliness: Accident or Injustice?
Click on the images to buy the books from Amazon.